Waste-Free
No waste water, no sludge in the system.
Environmentally Friendly
Since no solid, liquid or gas waste, it does not require an EIA report.
Chlorofluorocarbons (CFCs), harmful air pollutants (HAP) free.
Heavy metals free.
Operates at Ambient Temperature
Single Stage
Single chemical operation and single bath.
High Performance
Provide corrosion protection in excess of 500 hours of neutral salt spray exposure with epoxy and epoxy - polyester paints.
No Water Usage
No steps that require water use such as washing, rinsing.
Water and Energy Saving
Maximum cost savings since there is no water and heat usage.
Average 20 m2 Surface Treatment with 1 kg Chemical
Consumption vary from 15 to 25 m2 depending on the geometric shape of the parts.
Innovative
Completely different from conventional systems, never deplenish the chemical tank.
Replenishment done according to amount of consumption.
Operating Procedure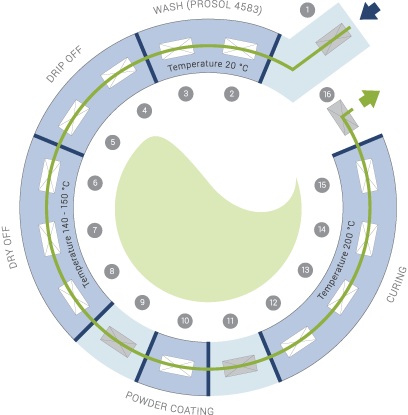 ABOUT PROCESS
QUESTIONS
ANSWERS